Faced with increasing concerns about general well-being, today it seems perfectly natural to put healthy cooking on your restaurant's menu. A cuisine that is easy to digest, light cuisine, nutritionally interesting, high in color and flavor, sometimes inspired by cuisines from elsewhere.
You'll discover the principles behind preparing healthy food and we'll teach you the rules so that you yourself can offer your clients healthy eating.
Jean-Paul Naquin
Head Chef, Instructor & Consultant at Institut Lyfe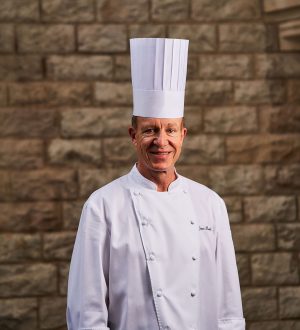 Duration: 4 days-28 hours
Dates: From March 11th to 14th 2024
Number of participants: 6 to 10
Requirements: Experience in the world of culinary arts.
Price: €1,815 including VAT-€1,512.5 excluding VAT
Expected outcomes
Make broths, juices, waters, low in fat and tasty
Make adapted cooking that preserves the properties nutritional foods
Use bindings by the vegetable puree
Target audience
This programme is designed for professional kitchen managers, chefs, line chefs, and commis chefs.
Programme provided in French only.
---
Programme
The importance of the visual and the importance of taste
Broth: one of the basics of well-being cuisine, aromatic broths, tasty and poor in fat
Seasonings: sous-vide technology for scented oils, water fragrant
Techniques and cooking: control the binding by the puree of vegetables, to associate land and sea products, play on contrasts flavors / textures / colors
Alternative cooking – substitute products: how to replace gluten in the recipes
Suggest alternatives to butter: to reduce saturated fatty acids in the plates
Use different sweeteners in desserts and pastries
Discover and work gelling, texturising, thickening, emulsifiers of plant origin
---