With a specific focus on produce and cooking skills, this course will give you a unique insight into the classic French dishes.
Using only the best quality traditional ingredients, we'll introduce you to the world-famous recipes that have been at the heart of authentic French cuisine for generations.
At the end of a course that blends tradition with contemporary aspects, you'll be ready to put into practice the essentials of world-renowned French cooking with your own innovative touch.
Jean-Paul Naquin
Head Chef, Instructor & Consultant at Institut Lyfe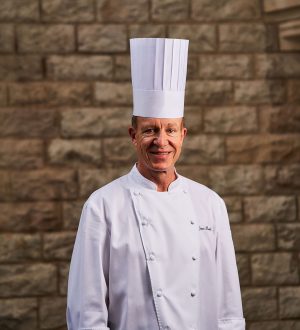 Duration: 5 days-35 hours
Dates: From February 5th to 9th 2024
Number of participants: 6 to 10
Requirements: Experience in the world of culinary arts.
Price: €2,150 including VAT-€1,791.67 excluding VAT
Expected outcomes
Perform preliminary techniques on fish, molluscs, crustaceans and meats
Make culinary preparations from a selection of products
Achieve different cooking modes adapted to quality products
Being able to know how to analyse flavors, cooking, seasonings
Target audience
This competency development programme is designed for kitchen managers, chefs, line chefs, and commis chefs.
Programme provided in French only.
---
Programme
A week centered around the major product families and fundamental techniques
Recipes and techniques of mythical appetiser
Work around raw and cooked foie gras, cold and hot – garnishes, side dishes and condiments
The truffle soup, duck pie Roanne, soufflé…
Cooking around the great classics of French gastronomy around fish, shellfish: roasting, cooking at right temperature, braising, poaching Red mullet, crayfish, pike, salmon, scallops…
Implementation of sauces (Armorican, Nantes butter…)
Dressage and presentation technique
Classic trimmings
---